Meet Dr. Chandler Hyer
Dr. Chandler Hyer is a true Las Vegas native! Born and raised in Las Vegas, Dr. Hyer graduated from Bonanza High School, and returned to University of Nevada Las Vegas for dental school after graduating from Brigham Young University with his bachelor's degree. After dental school, Dr. Hyer completed a two-year residency in pediatric dentistry, also at UNLV. He now specializes in creating a positive dental experience for every child.
Dr. Hyer has also completed additional training and is certified to provide comprehensive dental treatment with the use of oral conscious sedation and general anesthesia in hospital settings. He has expertise in the treatment of children with severe dental problems as well as emotionally and physically challenged patients.
Aside from practicing dentistry, Dr. Hyer enjoys hiking at Red Rock, surfing, spending time with his wife and three boys and coaching his sons' sports teams.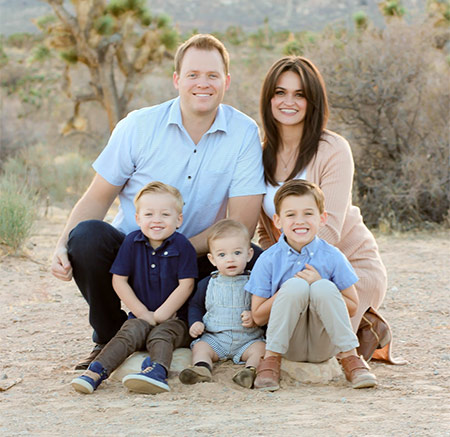 ---
Meet Dr. Todd Baggaley
One of the things that he is most proud of is the fact that he is the 5th child of a family of TWELVE children (same Mom, same Dad!!!!). He is also very proud to be a parent to four children of his own, and husband to their mother, Lindsay. Dr. Baggaley believes this background gives him a firm foundation of a family lifestyle which benefits him greatly as a healthcare provider for children. He realizes that a child's teeth are a part of a large picture that encompasses a child's world and a family's reality (both of which are patient unique.) Therefore, Dr. Baggaley strives to be a provider of encouragement in speaking to his patients and their parents concerning their dental health, and tries to avoid the far less-effective shaming approach to dental care.
Dr. Baggaley also would like to let parents know that he was a "difficult" child, himself. Diagnosed with ADHD at the age of 5, Dr. Baggaley struggled with significant behavior issues until he was 12 years old. As such, Dr. Baggaley has a unique understanding of kids who struggle with these problems and a deep respect for their parents. For children who deal with these, or other special circumstances, Dr. Baggaley is able to offer a viewpoint of reassurance and hope. He knows that through determination and hard work great things can be accomplished, not only in dental health, but also in all aspects of life.
Yes, Dr. Baggaley completed dental school as well as a pediatric dental residency, as any true, credentialed pediatric dentist has. However, he believes it is the traits of being a father, a brother, a son, and a friend who has had, and seen, life struggles first-hand that qualify him most for the work of treating children and their families as a dentist.
---
Mackenzie W
Office Manager
Mackenzie was born and raised here in Las Vegas, Nevada. She served an LDS mission in Managua, Nicaragua where she learned to speak Spanish. After her mission, she attended Utah State University before marrying her husband and moving back to Las Vegas. In her spare time, Mackenzie loves to travel and explore new places.
---
Chelsea H
Dental Assistant
Chelsea grew up in Brentwood, California, but now calls Las Vegas home. When she is not working, she loves spending time with her husband and three-year old daughter. Chelsea served for five years in the United States Navy until she attended Dental Assisting school in Virginia Beach, Virginia. Chelsea loves working with kids and helping them to have a positive dental experience.