Meet Dr. Chandler Hyer
Dr. Chandler Hyer is a true Las Vegas native! Born and raised in Las Vegas, Dr. Hyer graduated from Bonanza High School, and returned to University of Nevada Las Vegas for dental school after graduating from Brigham Young University with his bachelor's degree. After dental school, Dr. Hyer completed a two-year residency in pediatric dentistry, also at UNLV. He now specializes in creating a positive dental experience for every child.
Dr. Hyer has also completed additional training and is certified to provide comprehensive dental treatment with the use of oral conscious sedation and general anesthesia in hospital settings. He has expertise in the treatment of children with severe dental problems as well as emotionally and physically challenged patients.
Aside from practicing dentistry, Dr. Hyer enjoys hiking at Red Rock, surfing, spending time with his wife and four boys and coaching his sons' sports teams.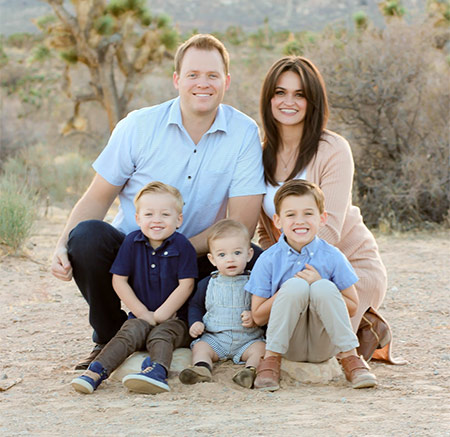 ---
Meet Dr. Todd Baggaley
One of the things that he is most proud of is the fact that he is the 5th child of a family of TWELVE children (same Mom, same Dad!!!!). He is also very proud to be a parent to four children of his own, and husband to their mother, Lindsay. Dr. Baggaley believes this background gives him a firm foundation of a family lifestyle which benefits him greatly as a healthcare provider for children. He realizes that a child's teeth are a part of a large picture that encompasses a child's world and a family's reality (both of which are patient unique.) Therefore, Dr. Baggaley strives to be a provider of encouragement in speaking to his patients and their parents concerning their dental health, and tries to avoid the far less-effective shaming approach to dental care.
Dr. Baggaley also would like to let parents know that he was a "difficult" child, himself. Diagnosed with ADHD at the age of 5, Dr. Baggaley struggled with significant behavior issues until he was 12 years old. As such, Dr. Baggaley has a unique understanding of kids who struggle with these problems and a deep respect for their parents. For children who deal with these, or other special circumstances, Dr. Baggaley is able to offer a viewpoint of reassurance and hope. He knows that through determination and hard work great things can be accomplished, not only in dental health, but also in all aspects of life.
Yes, Dr. Baggaley completed dental school as well as a pediatric dental residency, as any true, credentialed pediatric dentist has. However, he believes it is the traits of being a father, a brother, a son, and a friend who has had, and seen, life struggles first-hand that qualify him most for the work of treating children and their families as a dentist.
---

Meet Dr. Tate Guild
After graduating dental school from the UNLV School of Dental Medicine, Dr. Guild spent 3 years practicing as a general dentist in Las Vegas. While he enjoyed those 3 years practicing as a general dentist, he kept feeling a desire to further his training to specialize in pediatric dentistry. He wanted to help create positive, fun memories for his patients, so they would grow up and enjoy going to the dentist as adults. With that desire guiding him, he moved to Dallas, Texas for a 2-year residency program to train to become a pediatric dentist specialist.
During his pediatric residency in Dallas, he also developed a passion and skill in treating children and adults with special health care needs. Most of his 2-year residency was spent treating and caring for the most medically complex children in the Dallas Fort Worth area. He is grateful for those 2 years of training as they helped him feel comfortable in treating any patient that walks through his dental office doors.
At home, Dr. Guild enjoys spending time with his wife and 2 young boys. They enjoy exploring all of southern Nevada's parks, attractions, and sporting events together.
Dr. Guild is excited to help create fun and inviting dental experiences for your children. He looks forward to meeting you and your family.
---